Its not a yacht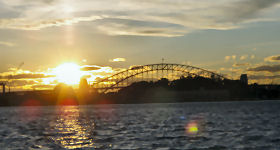 Sunsets on Sydney Harbour
Its a dinghy with a cabin. Mind you the cabin is in Mei's garage (weighs too much).

Just moving it back to the mooring we got a score of 10.9knots on my GPS, got 10.2 yesterday, aiming straight into to a bay with rather a lot of wind. Gybe was "interesting".

Should have been warned, when restoring the main to the boat and fitting the reefing line I asked Matt "Where does this go?" he replied "Dunno, never used it".

I've been on yachts before, the usual rule is when the stanchions get wet then your over powered, Matt on the other hand seems happy with the TOP of the stanchions under water. This results in wet arse when when you tack and lean on the rail.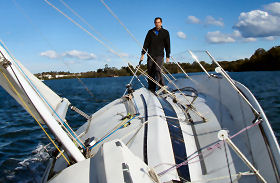 Nice view from up here
Matt claimed, (later, in a pub) that he did reef once. But in his defense(?) he is claiming it was 40 knots (F9 going on 10) at the time.

I'm not a celebrity, GET ME OUT OF HERE.
The harbour is awesome, though there is a small marine excusion zone around the opera house. Apparently an americas cupper kind of rammed it. It may be archetectuarally stunning, but its certainly not streamlined. Makes a mess of the wind.

Going racing tomorrow, 2 handed, is there a strong wind warning? DOH!

Those about to die salute you.

httpSee the photos here