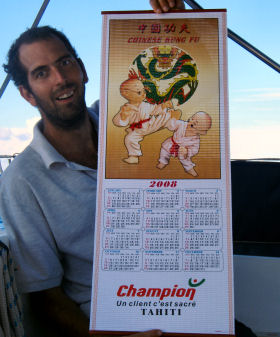 Pap
Arived in Papeete, all this time I've been spelling it wrong. Mostly however its the ear ache I'll remember, straight off the boat down the hospital. On antibiotics(very expensive ones) and ear drops. Not to mention pain killers. Not allowed to swim.
On drugs in pain and not allowed to swim in Paradise.
Papeete, the capital of Tahiti, in fact the whole of French Polynesia, is the origin of the word "pap". As is clearly illustrated by the free calendar we got from the supermarket. The good news is I have a nice new T-Shirt with "Hinano beer of Tahiti" emblazoned on it. Which should help spread peace an light amongst my friends when I get home. I've got some of their stickers too, with the nice kneeling polynesain lass with a flower behind her ear.
Some of you will be receiving postcards, maybe with a beer sticker on instead of words, then ou'll see what I mean.
Obviously you have to be here to really appreciate it.....
Tom