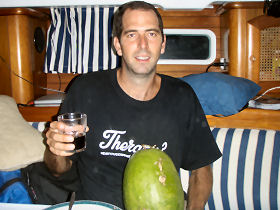 Melon
13 day's into the passage and we're defiantly in the trades. Jackie our weather girl says we've got steady wind for the next seven days. There's fresh bread in the oven we've 48 beers left. Half a bottle of rum. That's the good news.
We're nearly out of the first gas bottle (there are only 2) and we've another day till we reach nominal half way (1500Nm to go). The onions are almost gone. So's most of the fresh veg. The bacon and eggs won't last much longer either. I think maybe we should have brought more food. We're not going to starve, we're just running out of things before they go off. Which is frustrating. What we do have left is a melon. A large one. wanna see my melon? Visit the non RSS version. Yes is a a melon-drama. Sorry i'll stop being so melon-dramatic.
I'm really starting to get bored, you can tell by the melon gags. I've been quite good so far this trip but 13 days and no excitement. The last 2 nights we've caught a glimpse of light on the horizon. The first signs of humanities existence in over a week. Whoopy doo. The fish seem to have dried up. So when food was all fresh we caught loads. Now we'd really like some there's none. Typical.
This trip is going to be long. The sweep stake is me 13 days left, Alan 14 left, Chris 12 left. Which is bad for me cos I have to be spot on or one of them wins by default.