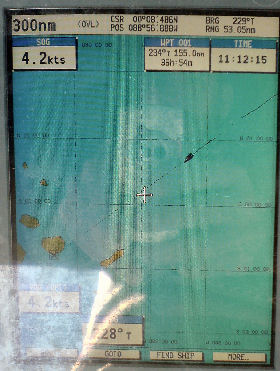 Gps Say 155nm to go
We're not going to make it, there's no wind, we've half a tank of fuel and the GPS says we've one hundred and fifty five Nautical Miles to go. Theoretically that's half a tank, however we've got at least a knot of current against us. So if it take us 36 hours to get there we effectively need fuel for 191 Nm. and right now, that 1 knot of current is looking mighty optimistic.

150Nm left in the tank
Help its happening again! Last time I came this way on Ornen. We got within sight of the Galapagos and sat there for a week. Were a good day's sail, on a good day from our goal. However we're not going to get there without running out of fuel, and with the really light head winds and current we're going to do exactly what we did last time, sail just fast enough to stand still.
Please don't let this happen to me again, I've spent forever sitting here near the Galapagos already. I don't want to do it again.