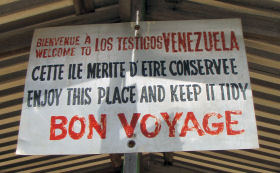 Apparently the other is in a famous concert establishment in the British Capital. This is not the only lost testicle out there. More can be found in a small group of Venezuelan Islands approximately 2/3rds of the way from Grenada to Isla Margarita.
Los Testigos, literally "Lost Testicles" in Spanish are a small group of rocky islands with sandy beaches, population 140. Ok I lied actually Los Testigos means "The Witnesses". Nothing to do with Testicles at all. Shame really. There is apparently a shop, however its main contents are apparently fish. Fish and fishing boats are what Los Testigos are about. Not much else there apart from a history of salvaged outboard motors and a couple of goats.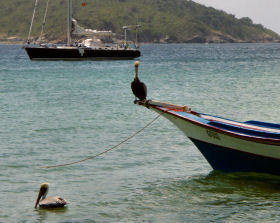 Twas gorgeous though. Local boats being built on the beach. Bright painted fishing boats under the palm trees. Pelicans sitting on the boats at Anchor. No Beer. No beer! Its also home to a frigate bird colony. There are huge black frigate birds wheeling overhead constantly. Difficult to photograph though
We sailed there overnight from St Georges Grenada. Stayed there last night and are on route to Polimar, Isla Margarita. Also Venezuelan. After a few days we'll probably Island hop further west, to Los Rochas, then Bonaire or one of the other ABC's
I very much doubt Los Testigos will appear on the Google maps thing on my site, but trust me they're there. Will try and upload this from Margarita. Assuming we don't get robbed, pirated or otherwise killed to death. Incidents have been happening in Venezuela recently. Though its difficult for me to tell if they haven't always happened in Margarita. Quite possibly there were incidents on record last time I was here on Ornen in 99.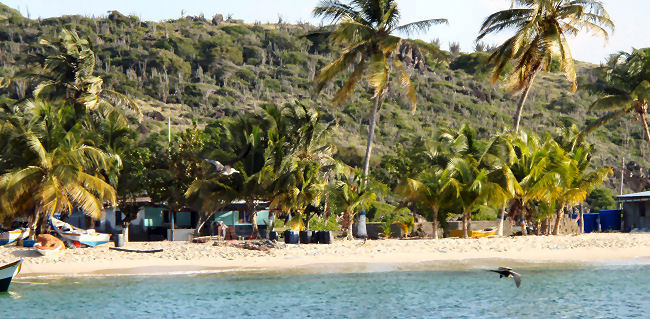 The Beach and fishing hamlet on Tesigos Grande