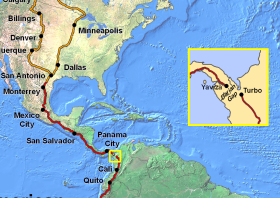 Image Courtesy of Wikimedia
OK I was wrong, last time I was here I described Panama as the crossroads of the world. Canal between Atlantic and Pacific spanned by the Bridge of the Americas connecting north and south America.
It doesn't work like that - cos of the Darién Gap, to my surprise there is no highway to South America from here. The Pan American Highway has a gap in it. This should prove interesting viewing on BBC2 as Ewan McLightsaber and Charlie Boreman are planning another trip called long way up. Right the way up the Americas.