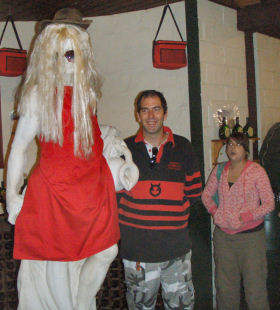 Dunno who the lass on the righ is....
Been out wine tasting. Read drinking. Some of it was right good. Roos in the road, chilli schnaps (eugh).
Took in a cheese factory (yum), 5 wine tastings at various vinyards. Many of them fortified. White Port? Recomended. Fizzy red wine? Georgeous. Mind you it was 40 bucks a bottle.
The last one was the chilli schnaps place. Didn't enjoy it, had to wash it down with half the tasman sea. Yep thats a sensible thimg to do after drinking wine all day, go surfing.
Recomened the Newcastle Beach YHA, open fires, 5 ucks surfoard hire. Nice. All the people here have been great. ack to Cow and Chicken tommorow.