whats this bit do?
Now Wicked campers come with 24 hour roadside assistance. Which it turns out is a bloke called John. Nice guy. Say the fuse on the tail lights of your van keeps blowing, who ya gonna call? John. When he gets round to finishing a conversation about wenching. He calls you back with the advise that you could ring NRMA, an acronym whose true meaning I'm not familure with, but they're the Auzzie RAC or AA.
According to John, when he'd finished talking to the police (whether this was "roadside assistance", or personal I forgot to ask) he informed we they wouldn't be interetsted cos it was a weekend and the car still drove. He also told me NRMA stood for:
"No Real Mechanics Available"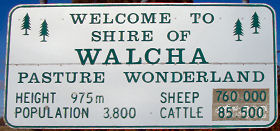 Add one Cow and one Chicken
So just like the RAC then. The modern driver having deteriorated to the point where they can't change a wheel, or use a pair of jump leads without pathetically calling some spotty teenager in a high vis jacket has erroded the service here too evidently.
"We fix 9 out of ten breakdowns at the side of the road" isn't saying much. So can I. Nine out to ten breakdowns are flat tires or batteries, loose wires, out of fuel or water. Any fool can fix them. No I'm not a member of the RAC.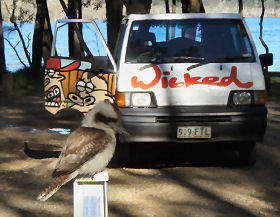 bird:"I wonder if thats a Misubisi?"
John said "Which van you got?" my mouth, as you all know, engages before my brain, so I replied "Cow and Chicken", rather than some licence or code number. Actually that was what he wanted cos he went "oh one of the mitsubishies". Wicked have a LOT of vans. Either he knows them all or this ones got prior. If your bored at work right now you can browse my gallery and the one on wicked's website comparing the state of Cow and Chicken on each. Now it was news to me it was a mitsubishi. There's a large dent on the front where the badge should be. Its probably imbeded in a roo someplace. Or possibly a tree.
That was 5 paragraphs of "I've got no lights" damn I'm good, wish I could have waffled like this in my GCSE essays.
Well its getting dark, there are scary noises out side, I'm in the Mayer Lakes National Park about 100kn north of Newcastle, wher dear john is too find me a mechanic tommorow. I'm NOT going to be moved on by yogi the park ranger cos I've got no lights.
Came back past Port yesterday. Called Al and Jackie, arrrgh I just can't bring mys self to spell jackie with a y. Sorry Jack. Just to check that I hadn't left anyhting at their place. And stopped with 2 teenagers by a river at Lauriton. Now they saw the van and said "at least we know your not the cops", latter it turned out round the fire, they probably weren't suposed to camp there and they'ed "found" the wood "lying arround by someones house". We call that a wood pile where I come from.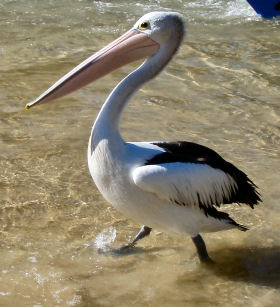 Big Bird
Been to Seal Rocks (man pelicans are big up close). And the gloriously named "Booti Booti" national park. Some nice town and Taree. If you come to Oz give Taree a miss. I did spend some time at the Aussie version of Halfords there that was the highlight of the place. Gonna make all the fuses into a necklace. Wear it with the T-Shirt I'm gonna make that says "I drank Tanna Dry".
Tommorow I'm going to Newcastle, to offload that most irritating of problems, an intermitant electrical fault, on someone else and I'm going to pronounce it like a Gordie. "Haweah leek, me fookin teal leets deene fookin wurk", to which the mechanic, if he's got an ounce of commedy and or geordie in him will point at the van and say "looook at thee size of that Heffer"
Well the scary bush noises have been scared off by what sounds like a Hells Angel convention with broken silencers. i'm off to investigate.
Intened to stop and find an internet tommorow while the vans getting fixed.