Wow what an Atol.... 1000m deep all round, huge shallow laggon fringed by palm trees. Paradise. Some tourism but not enouhg to ruin the island. Water palm trees and Coral - thats about all it is. Water is clearer than the air. You won't belive how blue the sea can be.
Rangiroa is a relativly straight forward Atoll to get into. HOWEVER, do not use this page as Navigational Data. No really don't, Rangiroa is straight forward for the Tumoutous. That's still hard and dangerious. I recomend Charile's Charts of French Polynesia. Plus charts, the Lagoon in Rangiroa actually has some soundings in the area of the passes. Diving is exceptional (i'm told). Lifts while harder to come by than the Marquesas are no problem. Yacht services do not exist.

Jackal at Anchor off Six Passengers.
NOTE Out of sight behind us is a little buoy, over some coral less than a meter deep!
Navigation
The Tuamoutos are known as the "Muderious Archepelego" with good reason. Shooting any Atoll pass, MUST be conducted with the sun overhead, at slack tide and with Good Informaton. Atoll lagoons contain a hell of a lot of water which barrells in and out of the passes at alarming speed creating every nasty tidal effect in the book. Even practially in the entrance to a pass your echo sounder won't hit bottom as out side the Atolls the bottom drops off like a cliff. Your Primarry means of navigation is the Mark one Eyball, coupled with a good dose of planning and second helpings of caution. and paticiece. charts are to be treated as guides. On our digital chart of Rangiroa was .3 of a mile north of where the chart said.
Don't try and go in except on slack water, be prepared to wait.
Don't attempt to navigate without someone trustworthy on the bows, and the sun well up in the sky.
Don't relly on the echo sounder for warnings.
Coral Lagoons have big lumps of coral sticking many meters up from the bed. We were anchored in 10 meters, off Six Passengers, a lump of coral a mere 1 meter deep outside us.
Pass de Tiputa and its surroundinngs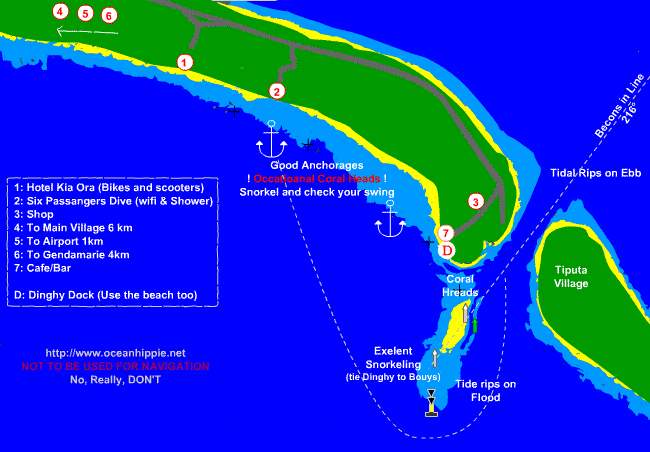 NOT TO BE USED FOR NAVIGATION
If you must persist in listening to my tips for Rangiroa, then follow the transit into the Pass De Tiputa, pictured above. When most of the way through swing off to the east, leaving the green beacon to starboard. Using an eye on the bow to spot deep water. Make a curve arround the New south cardinal and drive cautionsly into the bay. There's a becon off the dock by the snack bar, marking nasty sharp corral. The bottom from it to hotel Kia Ora (hutts on stilts) is shelving sand with lumps of coral. Good holding can be found, but beware, some of the coral lumps are too shallow for even a small yacht. Find a nice spot with the eyeball, anchor carfully to avoid chain snagging, and for gods sake use a tripping line. When your satisfied go for a snorkel and double check for coral. We had to use a snorkeler and some wierd driving to pull up our chain from is coral tangle when we left.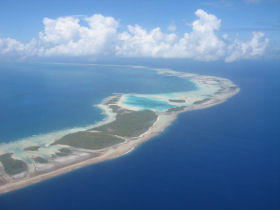 Ragiroa from the air
(photo courtesy Six Passengers Dive)
Supplies.
If you land your dinghy at the dock by the snack bar there is a small shop with suppiles 100m up the road. There's a much bigger, well stocked supermarket in town about 6km away, a fast dinghy could be use to visit the town quay and return. Or hitch a lift. Fred at Six Passengers reguallarly picks up divers and will oftern drive you to Town. Hitching is OK but a little more patienece is required than in the Marquesas.
Gas
No Idea, proably Gaz de Tahliti bottle swap only.
Water
There is no water availble on Rangiroa, probably on any of the Tuamotos. Water is ether rain water or brackish borehole water. Six Passengers Dive is frinedly and lets yachties shower in their borehole shower which is loverly.
Fuel
The'res a petrol station, but you'll need a lift into town.

Hanging from the dinghy amucs the Sergent Majors
Paper Work
The Gendamarie is on the main road about half way to the main village, again a lift is in order.
Snorkeling
he western side of the island holding the becons for the pass has epic snorleking, the local dive compaines have put moring bouys to wich you can tie your dinghy. They call it "the aquarium". The pass is recomended by Chariles Charts. However the pass is a drift snorkel and needs carefull planning and a good dinghy in support or you'll get swept out ot sea or worse. Be cautions, we decided against it.
Six Passengers Dive
I recomend this as your dinghy landing, Fred speaks good English and is generious with lifts. They were waiting for a large WiFi anntenna to be installed to ccover the Anchorage for us yachties. It will be a pre-paid card type. Six Passengers (allgedly) listens on VHF69. But its proably better to just jump in to the sea and swim over, you won't be able to resist the water in Rangiroa. Six Passengers gives a discount to yachties on their dives, wave at their ribs and the'll pick you up. They told us where to snorkel, let us tie our dinghy to their buoy and told us to help our selves to their beach shower. I can't recomend them highly enough. and I don't even dive. Chrisian does, here's one of Chris's emails:
We go out through the raging pass in a small rubber ducky and as the tide is running there no time for niceties, count to three roll in straight down, no surface time. Bang hit the water and before you know it your 10 feet down and feeling like your sky diving. The visibility is incredible 160 feet perfect crystal blue coral walls and deep down a sandy bottom. My eyes are immediately drawn to a 5-6 foot reef shark circling directly below me and as I look round I notice 10 or more all in there own small territories all circling looking for there next feed. Before I know it I am at 140 feet looking out into the blue hoping to see something big. Suddenly a diver next to me starts yelling a pointing as I strain to see a strange shape comes into view, swimming along the bottom towards but below us is a massive 13-foot Giant Hammer head shark. We start to swim along over the top of it marvelling at the uniquely shaped hammer like head and the way its eyes sit right on the outside of the shape, crazy. Now 4 divers within 15 to 20 feet of the shark and do you think he cared? Not a bit he just kept cruising along doing what sharks do. After following him for some time we looked up to see 6 Manta rays coming towards us. The Dive master and I immediately dove to the bottom and knelt arms outstretched almost as if in a position of worship. In a way it almost was, there is something amazing at being 170 feet under water looking up through crystal water and seeing the surface shimmering in the distance. Then having 6 mantas roar overhead almost as if you were sitting at the end of a runway and had jumbo jets taking off within arms length above you.

Chritisan and a manta Pass de Tuputa

An almost spiritual experience Christian