Stuff I have seen and Heard
An email from cold and jealous friend
Hi Tom
Thought I'd cheer you up a bit. It's beautifully hot and sunny here and I'm going to work in shorts. The trains are running on time, the traffic is light and gives way to cyclists when its supposed to. Everyone's got a pay rise, there's no homeless people on the streets and Tony Blair's been caught in bed with a wombat.
On the other hand it could just be winter.
Thanks ever so much for your missives.
Trust you're having a slightly reasonable time?
Keep us posted

all the best to you all
Simon & Pen
---
THE GALAPAGOS SONG by Roslyn Woowar (Woodward)
To the Tune of "Everybody's Talking at Me"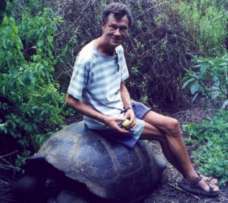 Coastguard's looking at us,
Wondering what the hell were doin',
Ever morning wake up Knowin',
We aint made it nowhere,
Just back and forth and in a straight line,
We're goin' where the winds are blowin'
Round and round with map in hand,
"Oh Tom" they say "When are we Goin' to see those turtles walk the land",
Together on Örnen we'll keep afloatin',
Headin' to Galapagos that's our plan.
"Oh Tom, How much further",
For the crew of Örnen that's their chant.
---
More of Roz'z Poetry.
Its never been a dream for me,
to sail a shrimp trawler across the sea
a special that I'll always reflect,
On memories that I'll never forget,

When I look back it was all so new,
my first days on Örnen and a her crazy crew,
I came from Panama with Abba the cat,
onboard with five men you can't beat that!

we set sail for Galapagos,
"only a week they did say"
I was settled in,
after twenty three days!!

with a goodbye to Richard one Englishman less,
for 3000 miles we sailed on west,
there in the Marquesas who could of guessed,
mark the egg man he would be next.

Then there were four, a family like no other,
Thomas Tank and Börje my 2 crazy brothers,
Thorbjörn our dad but sometimes out mother,
and Abba the cat, how everyone loved her.

Sewing and cooking and playing nursemaids,
learning about hamsters we passed the days,
laughing and drinking the nights came to an end,
singing pink floyd over and over again.

Island by Island we crossed the pacific,
and with the exception Jesus things were terrific,
such an embarrassment it was to be in that craft,
with hats pulled low we pumped and laughed.

Pumping and pumping for me in a dinghy,
Pumping and singing they've all been drinking,
Pumping and bailing "oh god we're sinking",
Pumping our way across the pacific.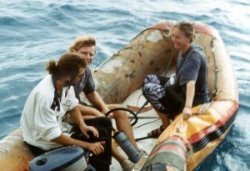 All too soon we arrived in Fiji,
time to fly home I thought for me,
but my mind quickly changed,
when I saw that new dinghy (sorry Böri),

This ones called Judas,
a name from the past,
Traitor of Jesus,
and man he goes fast.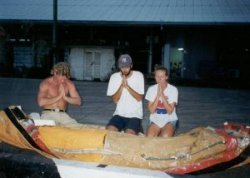 What a difference it made
with that dinghy so new,
without even trying,
we found 2 new crew.

Sandra the Kiwi and Alex the Dane
its so hard to convince them we're sane,
even sweet Abba we used to rely on her,
but now she has turned to a terrible tiger!

As I step ashore in Papua New Guinea
this five month adventure has ended for me,
thanks to ÖRNEN and all her crew,
for showing a life that I never knew.

when one adventure ends another one starts,
the next ones with Börje who's stolen my heart,
to see the people of PNG,
and who knows were the adventure will end.